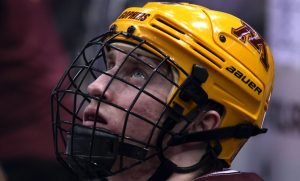 SCSU's Jake Wahlin Scores OT Game Winner to Complete Huge Husky Comeback
Minneapolis, MN – This is not the article I was hoping to write tonight.  This one's gonna sting for a while.
The University of Minnesota Gophers (2-1-0 Overall) lost to the St. Cloud State University Huskies (1-2-0 Overall) in a way that only Minnesota sports fans could believe possible.  The Gophers methodically built a 5-2 lead through 50 minutes of solid, exciting, fast-paced hockey, only to stop trying to play in the final ten minutes of regulation action.  Minnesota's big lead slipped away like sand through fingeres, as the Gophers gave up three goals in the final ten minutes of play, including giving one up with a SCSU empty net, to force overtime.  It was there that Jake Wahlin scored on the PP to win it for the Huskies 6-5.
The Maroon and Gold looked tight in first few minutes of the game, but that changed after a solid penalty kill on a Vinni Lettieri slash at 5:29 of the first.  The momentum boost from the successful Gopher kill buoyed the team, and they started to tilt the ice towards the St. Cloud goaltender in the minutes following.  Vinni Lettieri took advantage of a great two-on-one rush by Rem Pitlick and Leon Bristedt to tap in a rebound and give the Gophers a 1-0 lead.
The Gophers would build that lead to 4-1 midway through the second period, with goals by Tyler Sheehy, Leon Bristedt and Mike Szmatula, his first in the Maroon and Gold.  St. Cloud never gave up, though, and Judd Peterson scored late in the 2nd to bring SCSU within two.
SCSU gained a powerplay early in the third and a chance to cut the Gopher lead to one, but it was Minnesota's Tommy Novak who took advantage of the opportunity, turning a rush as Bischoff exited the box into a snipe goal to grow the Gophers' lead to 5-2.
From there, though, Minnesota's legs stopped moving.  Saint Cloud picked up momentum, and started scoring.  Jacob Benson at 10:23 to make it 5-3.  Mikey Eyssimont at 13:59 on the powerplay to make it 5-4.  The Huskies pulled their goaltender with just over two minutes remaining in the game and Judd Peterson scored with the extra attacker to tie the game at 5-5.  Eric Schierhorn had to make a couple big saves as the clock wound down to even send it to overtime.
SCSU's dominance continued into the extra session, as the Huskies drew an interference penalty and scored on the ensuing powerplay.
All told, Minnesota was out-scored 4-1 and outshot 22-6 in the final period plus overtime.  A visibly upset Justin Kloos summed it up nicely after the game, when asked what happened in the final 15 minutes: "We weren't moving our feet, we weren't playing hard."
Coach Lucia, always even keel in situations that would cause the fans either agony or ecstasy, took a cooler approach.  "I liked a lot of our game, I just didn't like the end of our game."  Lucia went on to say that the Gophers "gave them too much room" and "had some breakdowns" late in the third, and concluded with an understated "that's gonna cost you, and it did tonight."
The loss was another drop in the bucket of horrible Gopher losses to in-state rivals.  Minnesota is now a disturbing 2-14-0 in their last 16 games against the other four D1 Minnesota College Hockey teams (Bemidji State, Mankato State, St. Cloud State and Minnesota-Duluth), dating back to the middle of the 2014-2015 season.  It was also a loss in an all-important non-conference game.  The Gophers' brutal non-con record was the reason they barely missed out on the NCAA Tournament last season despite winning the Big Ten regular season title.  Minnesota is now 2-1-0 in non-conference play, but wins against good teams are hard to come by, and this one would have been a nice feather in their cap come March.
The Gophers will look to rebound tomorrow night in St. Cloud.  The two teams square off at 7PM Saturday, in a game that is now looking like a must win from a confidence perspective for this Minnesota team.
Despite a lot of doom and gloom from yours truly, Kloos knows that all is not lost.  When asked how the team can recover from this, Kloos struck a defiant tone.  "At least we get to play tomorrow.  We'll get to get our redemption tomorrow in St. Cloud, so that's the silver lining I guess."
Here's hoping for redemption.