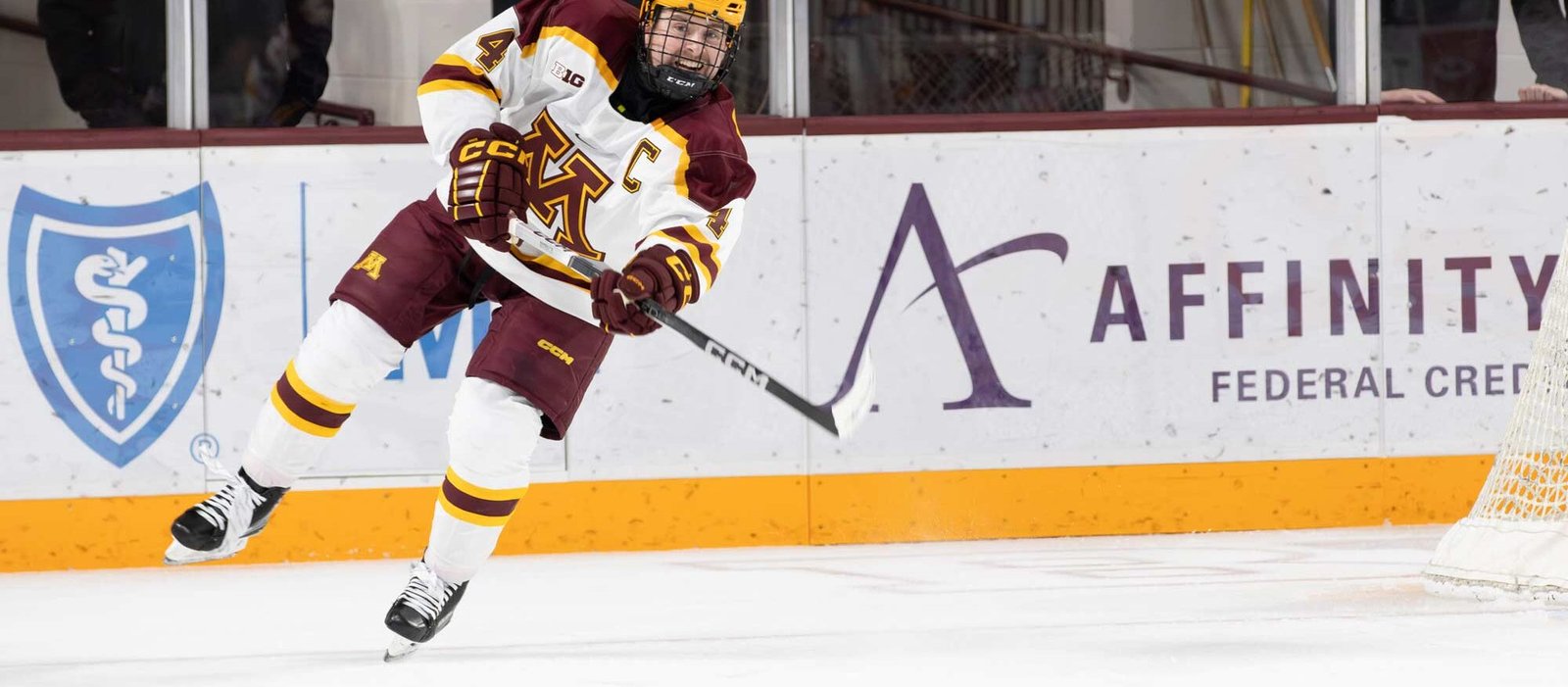 Minneapolis, Minn. — Since the breakup of the old WCHA, Minnesota Duluth sure has had Minnesota's number. The Bulldogs have had quite the run going 13-3-2 against the Gophers after the 2013-14 season and Minnesota Duluth coach Scott Sandelin has often had a smile on his face when the two teams meet. However, smiles were rare on the No. 14 Minnesota Duluth (3-3-2) bench Friday as the No. 6 Gophers (4-3-0) controlled the game from start to finish winning 5-1 in front of an announced 10,739.
Gophers coach Bob Motzko was happy with the Gophers transition game tonight and thought it was set up by having a good ground game with all four lines contributing to an attack. Minnesota outshot Minnesota Duluth in every period finishing with 30 shots to the Bulldogs 15. Minnesota won the face battle 38-27. And Minnesota drew four power play chances to Minnesota Duluth's three.
While the game was a welcome sight for Motzko, he had issues with his team on the power play and the reasons his team fell short handed.
"When we were playing hard, our five on five attack getting involved [it was good]," said Motzko. "But then when we get stationary on the power play… we've got guys just gripping it. As we older people can tell younger people, that frustration, it's just such a waste of energy. The minute they clear it, you see the dobber go down. You have ebbs and flows with your power play all season long and it's awful when it starts early because they're not feeling it."
And the power play is not feeling it this year. The Gophers are now 3-19 on the man advantage and haven't scored on the power play since October 14 against St. Thomas.
The other issue for the coach came with the stick penalties his team took. Luke Mittelstadt was called for high sticking when he missed his stick lift and caught a Bulldog in the mask. Rhett Pitlick was called for a hooking minor when his stick got in the hands of a Bulldog in the neutral zone. Bryce Brodzinski was called for a slashing penalty for some extra curricular activities around the Minnesota Duluth bench.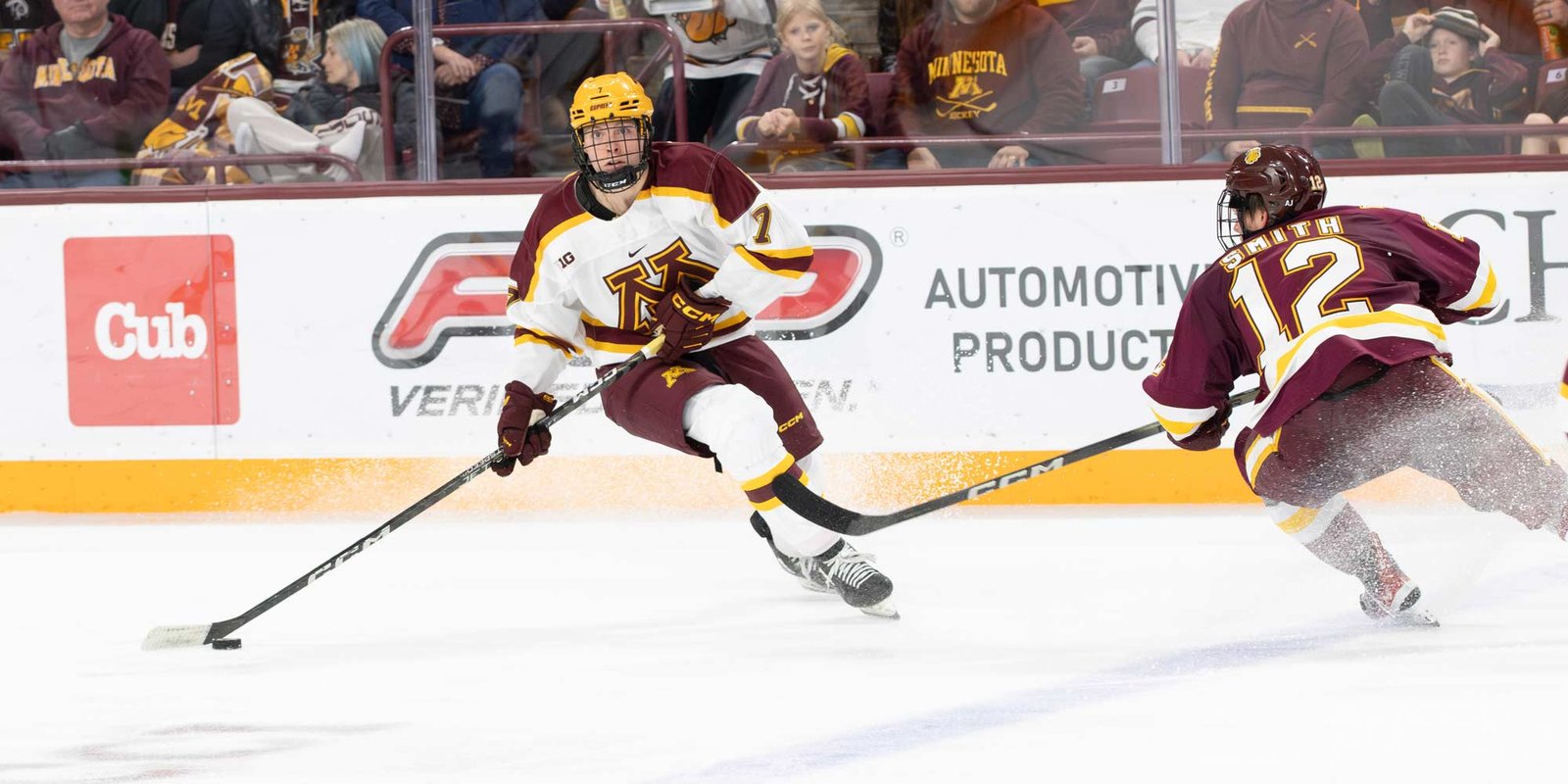 "I sat guys tonight on the bad penalties because we've taken too many stick penalties this year. So now they're dragging me to the fight," said Motzko. "The old Bobby Knight… rear end meets bench. And Brodzy was one and he gets two goals. Pitlick was the other and he had a couple points tonight. It's amazing what that bench can do to you."
Sophomore Cal Thomas opened the scoring for Minnesota 3:21 into the first period coming down the left side of the rink joining Rhett Pitlick and Jaxon Nelson in front of the Minnesota Duluth slot and taking advantage of a wide open Bulldogs net. It was his first goal with the Gophers in his 47th career game, it wasn't one where he was chasing offense and instead the puck just found him.
"I saw a lot of Duluth guys in front of me, so that allows me to go down low, if they're in front of me I can go and squeeze the zone," said Thomas. "We've been talking about that a lot with our coaches and the puck just came right to me which was fortunate."
Brodzinski made it 2-0 with just 15.9 seconds left in the period when defenseman Aaron Pionk lost an edge just inside the UMD blue line and Brodzinski picked up his own rebound for his third of the year. Oliver Moore then made it 3-0 Gophers 1:14 into the second period by scoring on a 2-on-1 rush.
Rhett Pitllick got his first goal of the season 9:51 into the third period to make it 4-0 after being benched for an earlier penalty. Brodzinksi got the 50th goal of career to cap the home team's scoring with an empty netter 18:28 into the third which drew a chirp from his coach.
"Brodzinski can sure skate when there's an open netter, we saw that," said Motzko. "That was his 50th tonight, [guys like him] need that fuel in their tank."
While the coach was unhappy with a few aspects of his team tonight, he was thankful to have senior defenseman Mike Koster back in the lineup. It gave them a full roster to practice this week and the coach thought it was like fixing a flat tire to have him back. And for Koster tonight, it was the first step back after a long, tough process to rehab a lower body injury and contribute.
"Obviously last weekend was unacceptable and we had to have a few tough meetings. The thing that I was really happy about was just how there weren't any excuses–especially all the young guys–everyone just kind of took it on the chin and know that they gotta be better," said Koster. "It's just part of being a good teammate. I'm super happy with our group's response. There was no panic and we just knew we had to go back to work and we're halfway there, we still have another game tomorrow."
The game tomorrow in Duluth for this home and home series will certainly tell more than just the response Minnesota had tonight. The Bulldogs have all the reasons in the world to be the most desperate team and the Gophers are headed to a rink where they haven't won since October 15, 2011 when Nate Condon, Kyle Rau, Nate Schmidt and Nick Bjugstad filled up the scoresheet.
Koster was one of Minnesota's three players wearing neck protection tonight along with Ryan Chesley and Oliver Moore. He shared it was a pretty easy decision for him after reading about Adam Johnson's death last week.
"Life's short, hockey isn't everything in life and I think that's the biggest thing. I just owe it to my family and my loved ones just to wear one," said Koster. "It's just kind of tragic what happened and it's just something I felt necessary to wear and it's just kind of a good wake up call."
Minnesota has more neck protection on order, but suppliers are struggling to keep up with the demand.