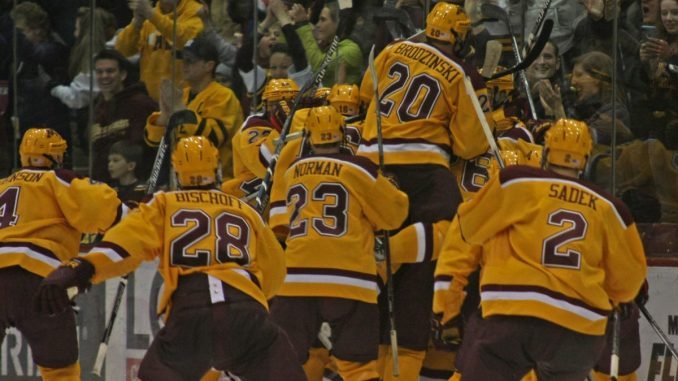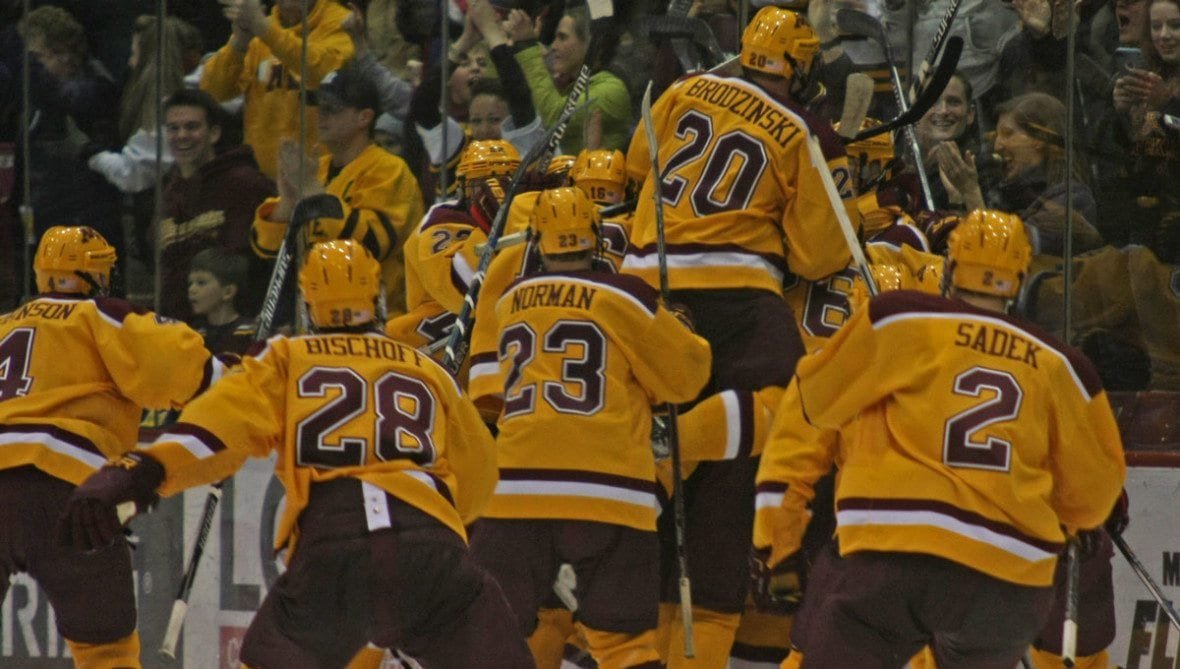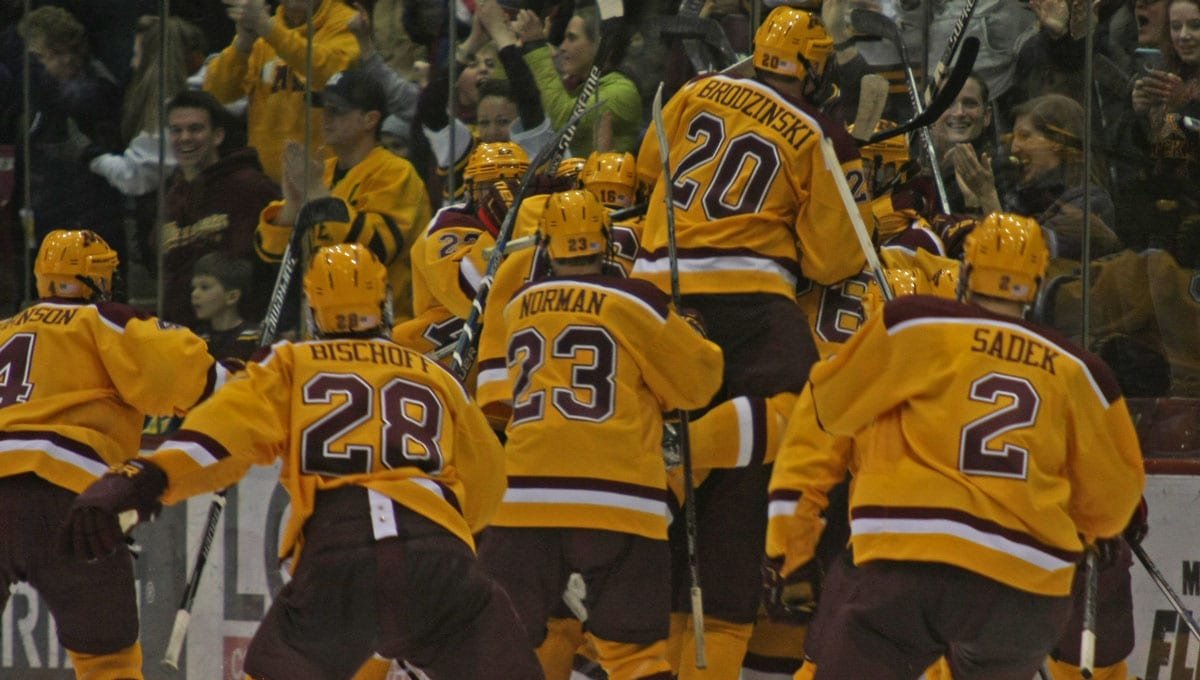 Minneapolis, Minn. —  Minnesota travelled to Ann Arbor in December trying to get out of Yost Arena still ahead of
Michigan in the Big Ten Standings. They had the same goal this weekend at Mariucci Arena and an overtime game-winner by Hudson Fasching put the Gophers back in first place with a 3-2 win over the Wolverines.
"We feel good, I mean we're in first place, that's about as good as you can feel to be honest with you," said Fasching. "Obviously Michigan's right on our tails, but we feel good, we're playing well."
The overtime goal brought the announced attendance of 10,499 to their feet and might allow fans to move on from their series opener collapses against Michigan.
"We watched some video and the guys were pretty fired up," said Vinni Lettieri. "It was like when we went to Michigan, when we got spanked the first night, we came back hard and that's what happened tonight. We were very excited, we played as a team tonight, and we wanted it."
Michigan capitalized on a mistake by a Gopher defensemen Thursday night for their first goal, they did it again Friday as well. Jack Glover was trying to make the first pass out of his own zone, but Justin Selman picked it off just inside the blue line and then fed Cooper Marody. Marody skated around a surprised Eric Scheirhorn and tucked it in to make the score 1-0 7:18 into the first period.
"It happens, but we kind of came together a little bit more today," said Fasching. "Yesterday we were just kind of like, 'oh no' we kind of pouted about it and got down. Today I think we responded, we had more energy on the bench, we had more energy as a team. We came together instead of falling apart today."
Minnesota then got two lucky bounces that have often alluded them this season for their first two goals of the game. Vinni Lettieri's slap shot went off Niko Porikos shot block attempt and then Leon Bristedt's chip on goal bounced over Steve Racine to give the Gophers a 2-1 lead.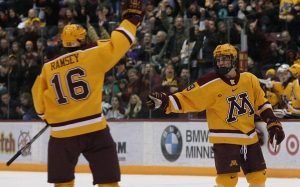 "I chipped it in, I tried to beat my D to the net," said Bristedt. "I think I had probably like four grade A scoring chances and it's kind of funny you score on a shot like that or a dump in, you don't even try to score, but that's hockey."
Michigan didn't disappear though. The Wolverines controlled play for the final five minutes of the second period and were rewarded when Kyle Connor saucered a pass across the crease to Tyler Motte. The nation's leading goal scorer elevated the puck over Schierhorn just below the crossbar for his 29th goal of the season at 17:19.
Minnesota then played one of their best 21 minutes of the season. Lucia said Michigan is one of the country's highest scoring teams in the third period, but his team really dug in and didn't give up much of anything. The Gophers outshot their opponents 12-3, blocked four shots, and battled against the #6 team in the country.
"There are a lot of times where I've come to [the post-game with the media] and I've just been like, 'uhh we needed just a little bit more,' said Fasching. "Tonight we didn't quit on each other, we came together as a team. There was no quitting involved and it was awesome to see."
Fasching's overtime game-winner pushed Minnesota back to #16 in the PairWise Ranking. The team controls their own destiny to win a third consecutive Big Ten Regular Season title. Minnesota win also kept alive their potential for at-large bid, but they'll need the teams ahead of them in the PWR to falter.
Minnesota (12-4-0-0, 17-14-0) now has a one point lead over Michigan (10-3-3-2, 20-5-5) in the conference and has the easier road remaining in the Big Ten. The Gophers have a road trip to face fourth place Michigan State next weekend and then finishing their regular season with sixth place Wisconsin coming to Mariucci Arena. Michigan plays a home and home with Ohio State next weekend and Penn State plays two at Yost Arena to finish the season.
The 10,499 tickets sold for Friday's game against Michigan, is good for second all-time attendance at Mariucci Arena. The record is 10,587 for their Nov. 6, 2004 game against Wisconsin, and broke the 10,495 tickets sold for the Feb. 15, 2014 game against Michigan.