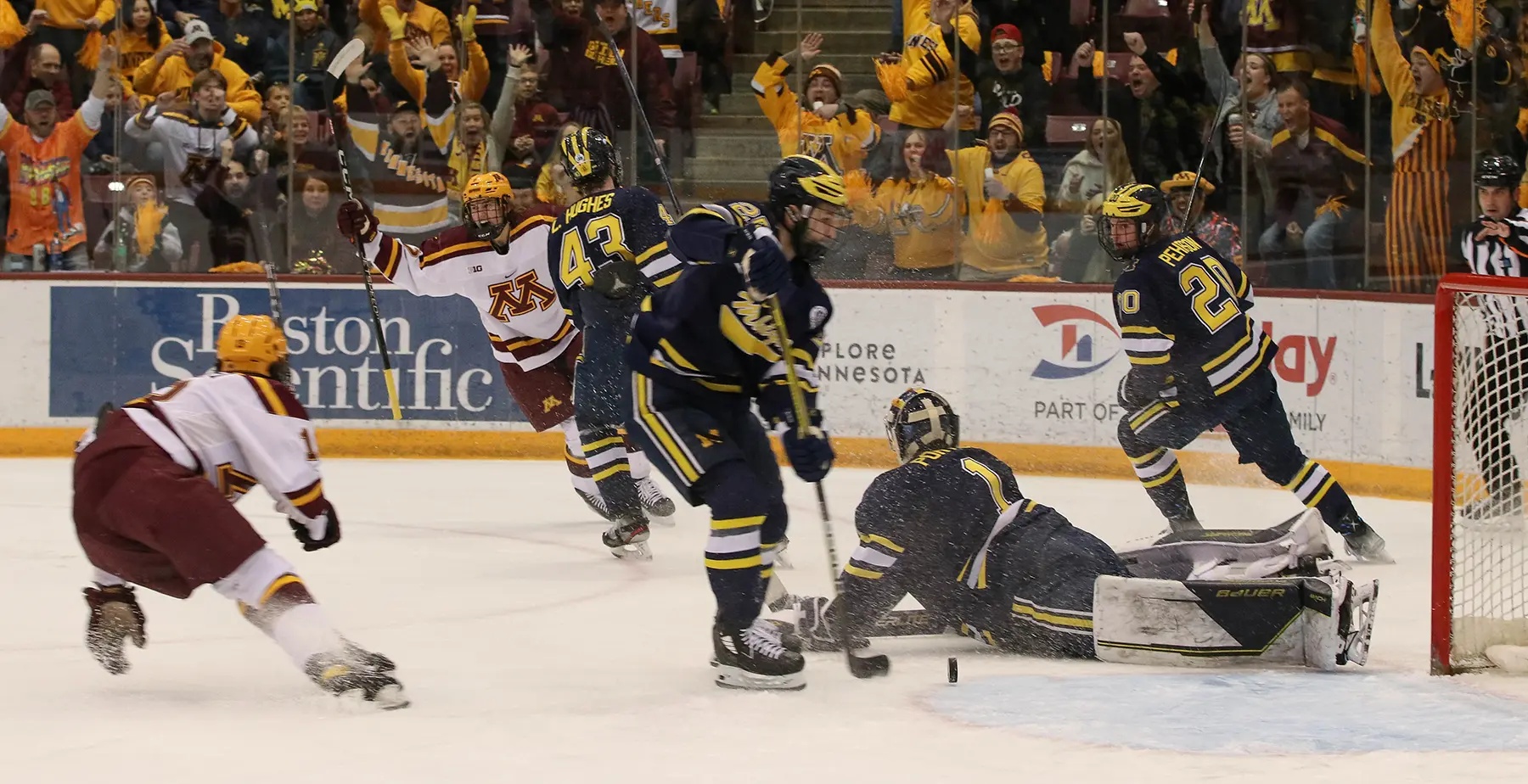 Minneapolis, MN – The Michigan Wolverines might be getting used to the unfriendly confines of Mariucci Arena.
For the second straight season, the Wolverines (24-11-3) beat the Minnesota Gophers (26-9-1) in the Big Ten Championship Game to hoist the Big Ten playoff trophy. The Gophers took a 3-2 third-period lead before Michigan scored two unanswered goals to win the game 4-3. Both teams now look ahead to the NCAA tournament, where each will be a #1 seed.
The Gophers played a good first period, jumping out to an early 1-0 lead on Brody Lamb's third goal of the season. Lamb took a beautiful pass from Logan Cooley on a two-on-one rush to beat Michigan's Erik Portillo and put Minnesota up by one.
Michigan came out and flat-out won the rest of the game, with Rutger McGroarty socring twice in 34 seconds (once on a rebound, once on a deflection off the end-wall) to put the Wolverines ahead 2-1 early in the second. Logan Cooley tied the game for the Gophers, this time as the recipient of a two-on-one pass from Jimmy Snuggerud midway through the middle frame. The goal was against the run of play and got Minnesota mentally back in the game after a lull in their concentration throughout the early part of the second. The teams entered the third tied 2-2
The Gophers took the lead early in the third period on a stunning Rhett Pitlick goal. Pitlick rushed the puck out of the Minnesota zone one-on-one, before putting on about five dekes and dropping the Michigan defender. Pitlick then roofed a wrister from in close on Portillo, giving Minnesota a 3-2 lead at 1:57 of the final frame.
Michigan came roaring back, making it a 3-3 game at 5:29 on a seeing-eye wrister from the blueline by Seamus Casey. Minnesota challenged the goal for offsides, but after a short review the referees determined that all Wolverine players had touched up prior to the attacking player possessing the puck in the offensive zone.
The Wolverines scored the game-winner at 11:46 of the third, when Dylan Duke, after sliding into the Gopher crease, was somehow able to direct a puck past Justen Close and into the net.
Although the Gophers put up a valiant effort to tie the game late, they weren't able to beat Portillo again (who got help from the loose goal pegs once or twice more than a neutral observer would deem appropriate), and in the end it was the same 4-3 Michigan scoreline as last season's title game.
Now, both teams look ahead to the NCAA Selection Show, to be held Sunday at 5:30 PM on ESPNU. Michigan projects to be the #3 overall seed, while the Gophers are #1 overall. Nobody knows what the committee may do, but most Pairwise-watchers think that Minnesota will face Atlantic Hockey tourney-winners Canisius in Fargo for the first round. This writer's amateur bracket prediction is below:
Fargo: 1 Minnesota vs. 16 Canisius, 7 Harvard vs. 9 Ohio State
Bridgeport: 2 Quinnipiac vs. 14 Merrimack, 6 St. Cloud vs. 11 Mankato
Allentown: 3 Michigan vs. 15 Colgate, 8 Penn State vs. 10 Michigan Tech
Manchester: 4 Denver vs. 13 Cornell, 5 BU vs. 12 Western Michigan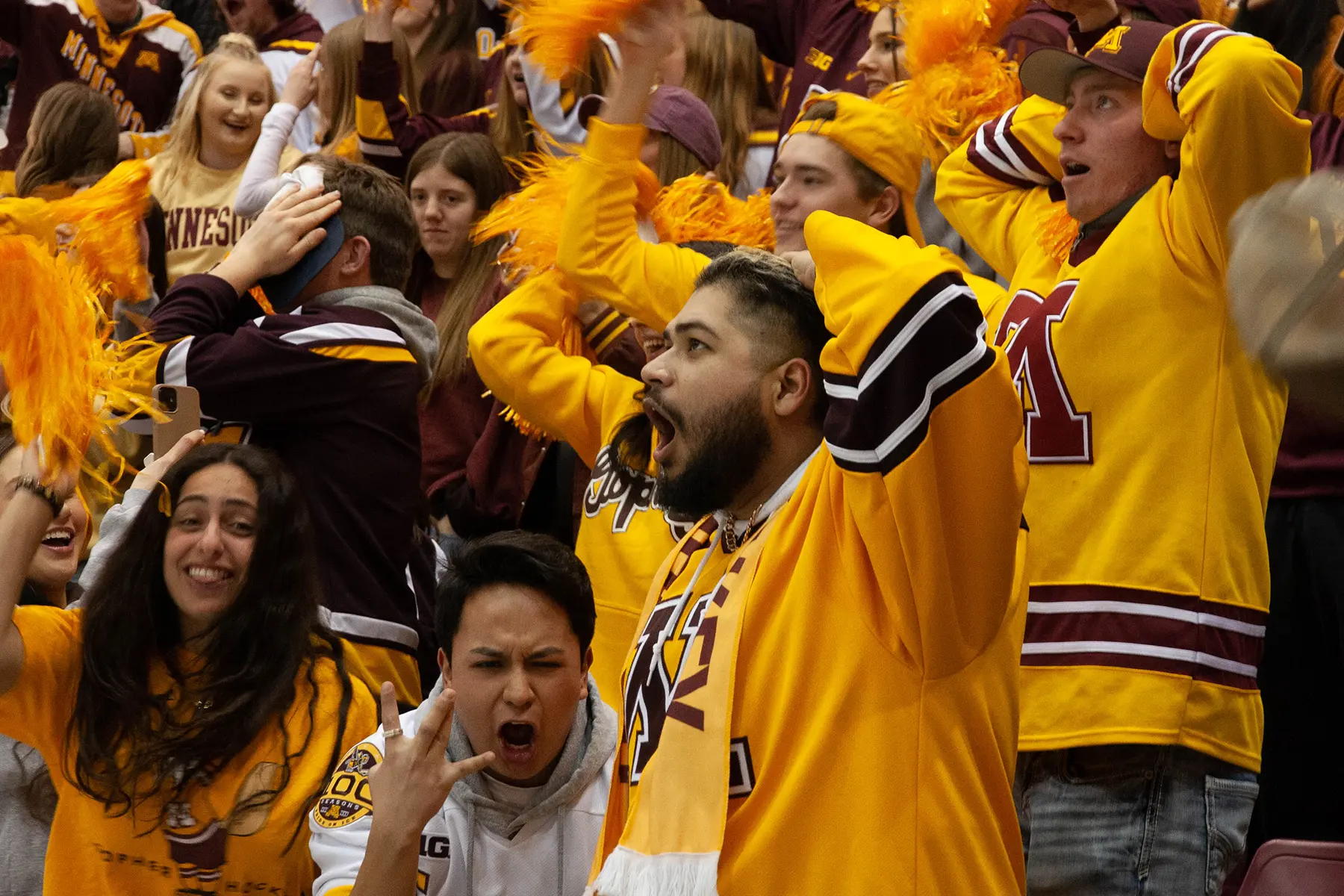 Video