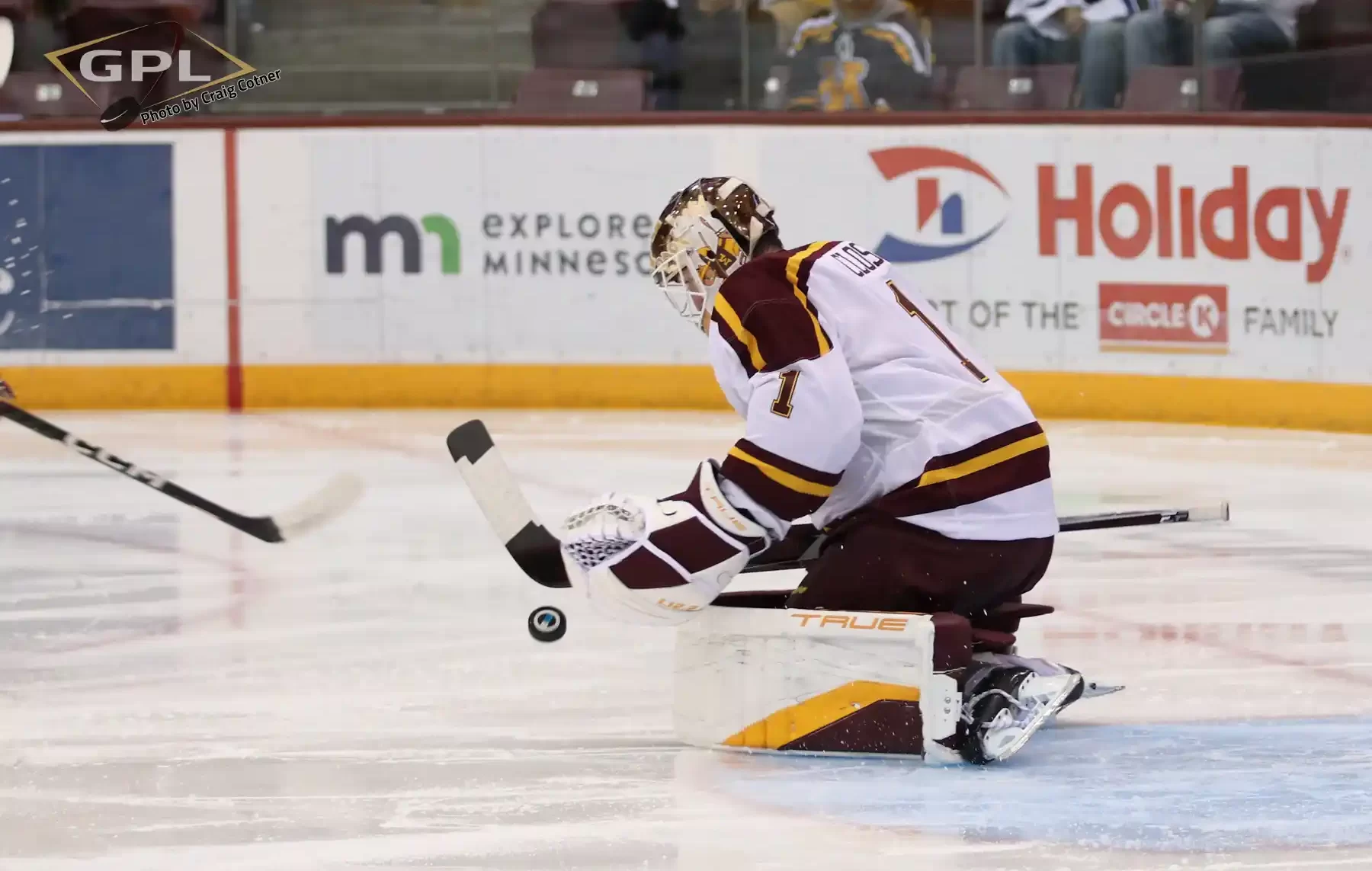 East Lansing, MI – The complaint after last weekend's effort at Arizona State was that the Thanksgiving series felt like a vacation.
If Friday's Gopher effort was any indication, the team traveled to East Lansing on business for this weekend's set.
The Minnesota Golden Gophers (11-3-1-2 Overall, 7-2-0-0 B1G) methodically picked apart a surprisngly strong Michigan State team (11-5-1-0, 5-3-1-0), playing solid team hockey en route to a 5-0 triumph at Munn Ice Arena.
The teams traded conservative shifts in the first few minutes of the game, with neither team giving up many offensive chances. Minnesota got on the scoreboard first 7:54 into the period, when Mason Nevers turned over a puck behind the MSU goal line and fed an open Logan Cooley in front of the net. Cooley dragged the puck to his forehand before beating Spartan goalie Dylan St. Cyr (formerly of Notre Dame) to the far side.
The next goal of the game was critical, and it took almost 30 minutes of game time to arrive. Minnesota's Aaron Huglen took a Spartan D-zone turnover and turned it into a shot on goal, which St. Cyr saved, but Rhett Pitlick was on the spot to put away the rebound at 17:03 of the second period. The key goal put the Gophers up 2-0 near the end of the middle frame.
In the third period, the Gophers tacked on three more goals for good measure, with Bryce Brodzinski, Matthew Knies, and Cooley scoring to give Minnesota a 5-0 advantage. Gopher goalie Justen Close rebounded from an uncharacteristically poor showing Saturday in Tempe to secure his third shutout of the season between the pipes.
The win puts the Gophers at 21 league points, two points ahead of now-second Penn State (who won tonight) and four ahead of the Spartans. As of this writing, the win also vaulted Minnesota up to #1 in the Pairwise rankings.
The Gophers and Spartans duke it out again tomorrow in the series rubber match. The puck drops at 5PM central time, and the game can be seen on BTN.
Post Game Audio from GopherSports