Minneapolis, Minn. — The band didn't get to play the Battle Hymn Saturday night, but a Justin Kloos goal and last minute stand returned the Gophers alone atop the Big Ten Standings with a 3-2 win in front of 10,469 at Mariucci Arena.
"I actually didn't see it go in, I just heard the crowd so I was pretty pumped," said Kloos. "Crowd was great, that was really fun, one of the most fun games I've played in my four years at Mariucci."
Kloos scored his 17th goal of the season and NCAA leading sixth game winning goal 14:54 into the third period earning #4 Minnesota (21-9-2, 12-4-0-0) a weekend split with #19 Wisconsin (18-11-1, 11-5-0-0). The Gophers also got goals from Rem Pitlick, his 11th of the season, and Ryan Norman, his 5th of the season, and 29 saves from Eric Schierhorn.
While the goal gave the Gophers a late lead, the team still had to battle the final 2:38 as Wisconsin pulled their goalie for an extra attacker and then had a closing power play for the final 59 seconds. Vinni Lettieri took a face-off in that final minute as one of the four penalty killers on the ice with Kloos, Jake Bischoff, and Ryan Lindgren.
"It was interesting, especially when it got down to the end when I won the draw to Eric's pad, said Lettieri. "That's not how I was planning to go, but he saved me so I had to save him there."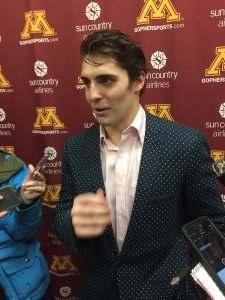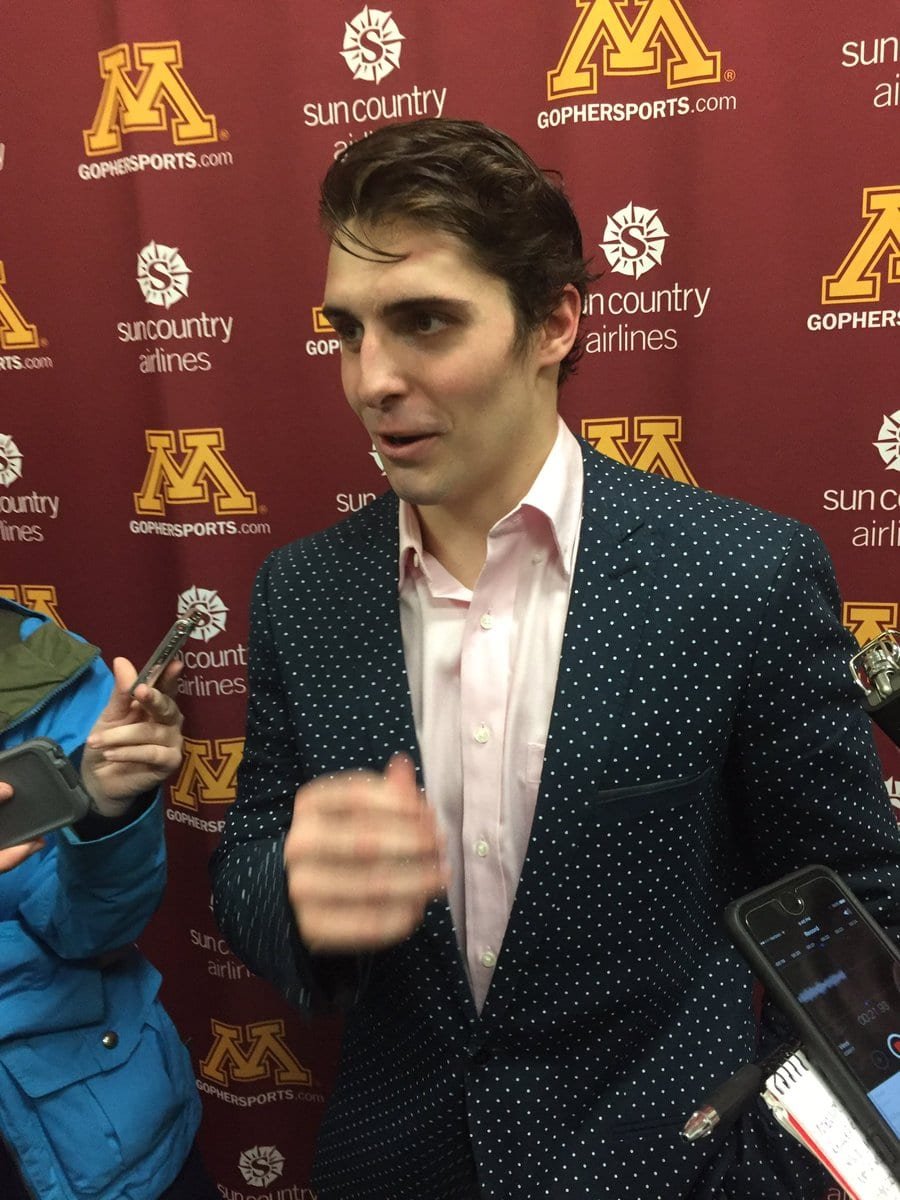 Lettieri saved Schierhorn by clearing the puck off the goal line after his goalie made a diving save across the crease on Wisconsin's Grant Besse.
"In that situation you gotta do, what you gotta do right? It bounced off my pad, that's the first thing that came to mind, and I think that was my only play in that situation," said Schierhorn. "[The draw] kind of caught me by surprise, I wasn't able to get a stick on it to deflect it in the corner, so had to go into desperation mode."
"That's the epitome of our team. One guy helping another guy out, that's kind of the way it's worked. Whether it's our team bailing me out some games, or me having to bail them out some games–that's how it's been all season."
The sequence capped off a season split between the Big Ten's top two teams, where according to Wisconsin coach Tony Granato the losing team probably felt after every game this season they could have just as easily won.
"Wwe played a heck of a game, we had a heck of a weekend, and I feel the same thing with their team," said Granato. "[As far as] entertainment for a college hockey fan, I don't know if this weekend gets any better."
There certainly were plenty of fans able to take in the Border Battle Saturday. Minnesota announced the 10,469 tickets distributed Saturday was the third largest all-time attendance at Mariucci Arena, behind the record 10,587 against Michigan on Nov. 6, 2004 and 10,495 for a Feb. 15, 2014 game against Michigan.
"It was a great student section tonight and yesterday, that was definitely helping us too," said Lettieri. "We have the best fans in the league, when we play Wisconsin we need that."
The Gophers finish their Big Ten regular season with a series at the league's bottom two teams playing Michigan at Yost Arena and then home against Michigan State. Minnesota has had some exciting finishes the past couple weeks, but they've closed out enough games to control their own destiny for a sixth consecutive conference title and a top seed in an NCAA Regional by sitting fourth in the Pairwise Ratings.
"I don't know if the coaches love it, but when we've fallen behind, but I don't think we've ever lost hope in those games," said Schierhorn. "It's always felt like we've been in it to the end, it was shocking for us last night when we didn't get a goal there at the end. We have a lot of confidence in ourselves to battle back when we need to."