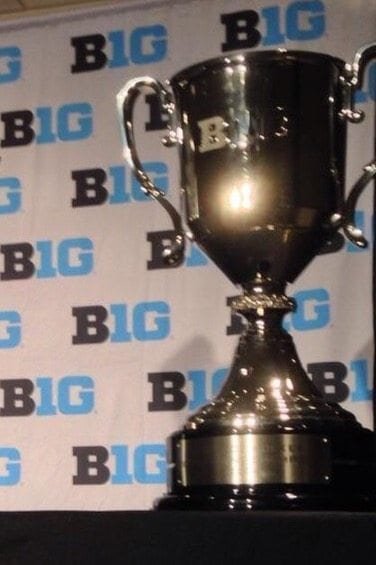 After adding Notre Dame as a sports affiliate to men's hockey in late March, the Big Ten will officially announce sometime this off-season that campus sites are coming to Big Ten Hockey Tournament starting in 2017-18.
It's expected that the higher seeds will be the host for all games in conference tournament play. The format will include a best-of-three first round with the top seed getting a bye, a single elimination semi-final, and then a single elimination final for the Big Ten automatic bid.
The new proposed format is especially attractive to schools like Minnesota, who would have had home ice advantage for every Big Ten Tournament game from 2014 to 2016.
The WCHA Final Five was the pinnacle of college hockey events during it's heyday at Xcel Energy Center drawing crowds between 70,000 and 90,000 over three days. Since realignment in 2014 all conferences have struggled with attendance, and the Big Ten drew 42,610 to Xcel in 2014, 16,144 to Joe Louis in 2015, and 15,866 to Xcel in 2016. The league's current tournament agreement ends with a weekend at Joe Louis in 2017.
During this year's Big Ten Tournament, Michigan coach Red Berenson said that he likes playing in the big buildings, but noted he likes playing in them when they're full and feels the players do too.
"When you play in a building that's less than half full, it doesn't seem like it's that important, and yet these are important games," said Berenson. "I know the Xcel Center's done a great job here every time we play here, and the same thing with Joe Louis [Arena] in Detroit, but I still like campus sites as a start to the playoffs. Personally, I'd like to see the fans see the teams on campus. I mean that's where the real environment is."
Michigan State coach Tom Anastos, Ohio State coach Steve Rohlik, and former Wisconsin coach Mike Eaves all noted after the Big Ten Tournament that they enjoyed the experience playing in NHL buildings, but added the conference still need time to build its following and current attendance issues were obvious.
WCHA commissioner Bill Robertson told WCCO this spring that he was pushing for the NCHC, WCHA, and Big Ten to coordinate their tournaments during the same weekend in the same city, but apparently that idea wasn't as attractive as high seed campus sites to the institutions. The WCHA is also expected to announce on campus sites today. The WCHA traditionally used home sites for all playoff games until 1988 when they started using neutral sites like the St. Paul Civic Center and Bradley Center for their playoff championship sites.