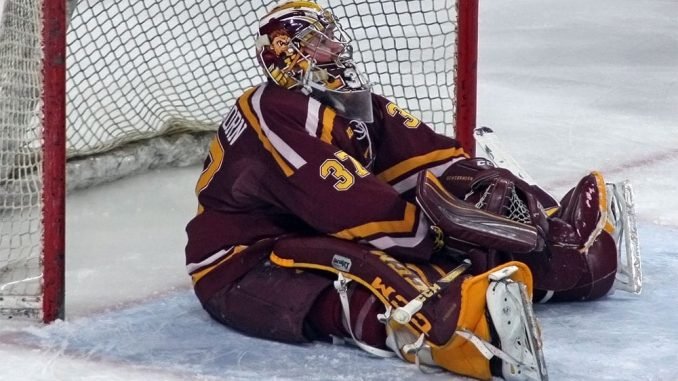 Two Gates Power Play Goals not Enough, as Miska paces Bulldogs
Tough loss for Goldy tonight – they dropped a disappointing and maybe even frustrating 3 – 2 loss in their final NSCC opener, to UMD. Some positives and negatives came out of the game but ultimately they fall again in trying to take down an (in this case top ranked) in-state rival.
The Gophers got the start they wanted, and really, needed.  They fumbled the puck around a little to start but had good puck possession and a great battle level – and were rewarded with a couple of power plays.  They capitalized on the first one, with Brent Gates Jr. one-timing a puck from the slot past Hunter Miska, who seemed to come off the post to his opposite side a bit too far.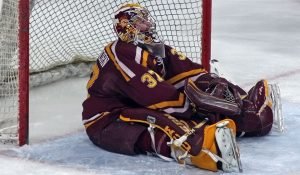 The Bulldogs eventually gathered themselves and had a great deal of puck possession the last four to five minutes.  Riley Tufte took advantage of the pressure by intercepting a weak/pointless clearing attempt, walked the slot and went upper corner on Schierhorn to tie it before the first break.
"The first goal we turned one over coming out of our own zone, when the play should have just been off the glass. We didn't make a heavy enough play", said Lucia after the game. This was Tufte's 5th of the season, all in his last 7 games as the first round pick of the Dallas Stars started his career with 20 straight scoreless but is really coming on.
"I thought we had a good push to begin the game" said Lucia. "Ultimately when you play good teams you make some mistakes and they're going to make you pay."
UMD asserted themselves in the 2nd period and took the lead.  After gaining a 5 on 3 power play advantage, Alex Iafallo snapped a goal mouth pass into Schierhorn, who made a great effort and stopped the shot, but couldn't corral it and it got over the line.
"Not a great penalty on our part, to take one behind the net in the offensive zone" said Lucia, referring to Bristedt's hooking call previous to the Lindgren cross check that made it a 5 on 3 advantage for UMD.
UMD possessed the puck almost the entire period. Yet while it felt like a 3 – 1 lead would be an impossible task to overcome, the Gophers held their own and entered the 3rd period down just a goal.
The Gophers started the 3rd period a little slow but built momentum.  Their power play chances didn't go well but they absolutely dominated the third period in terms of shots & shot attempts.  36 to 2 in shot attempts in the third period alone and 22 to 2 in shots!  The issue is that a bad turnover at the offensive blue line led to a breakaway goal by Avery Peterson, putting them up 3 – 1 which combined with how Miska played, was indeed too much to overcome.  Brent Gates Jr. did bring the Gophers to within one with his 2nd power play tally of the night but it was not enough in the end.
After the game, the mood around the team was quiet but positive.  "I thought our team did a really good job in the third" said Gates, post-game.  "I think we got a lot of good pieces" he said.  "You know, we're not quite there yet, but what that showed is that we can play with anyone."
Depending on your view of things, you could take away something strong from tonight's game. Did the Gophers look offensively inept for a majority of the game and continued to get bitten by a handful of mistakes?  Or did they go toe to toe with the best team in the country, dominating the 3rd period in shots/attempts in a serious growing effort?  I'm certain the fan base will go one way but the team can prove that wrong with a winning effort at 4PM vs. Bemidji tomorrow in a very important (Pairwise) third place NSCC game.

Full Post Game Video
[facebook https://www.facebook.com/GopherPuckLive/videos/1003534846417789/]