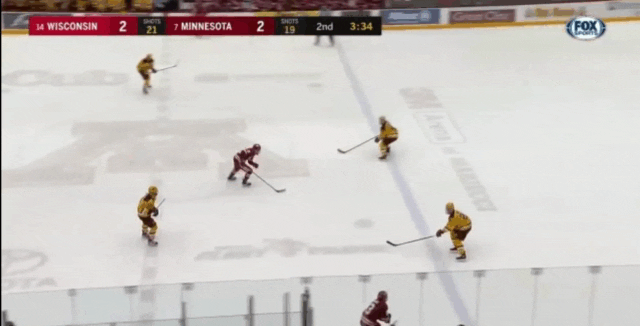 Mittelstadt and Sadek Goals Not Enough Offense for Minnesota
Minneapolis, Minn. — A lot of eyes were raised this fall when Tony Granato added a graduate transfer All-American goalie to the red team to the east. Even more eyes were raised as that goalie was benched in favor of sophomore Jack Berry on Saturday night. The decision paid off for No. 14 Wisconsin as Berry made 40 saves including 20 in the third period defeating No. 7 Minnesota 3-2 in front of 9,245 at 3M Arena at Mariucci.
"The goaltenders played well, I think both teams really competed," Gophers coach Don Lucia said. "We had an unbelievable push in the third period, but like a lot of times we couldn't buy a goal. Look at how many shots we had right in front, we just couldn't get one by him."
Minnesota (10-7-1, 4-5-1-1) twice earned leads over Wisconsin (10-7-2, 4-3-1-0) on Casey Mittelstadt's fifth goal of the season and Jack Sadek's first of the season, but they weren't able to extend the lead despite a flurry of opportunities on the Badger goal.
WATCH: #Gophers get on the board early with a PPG from Casey Mittelstadt! pic.twitter.com/EeohELpRoK

— Minnesota Men's Hockey (@GopherHockey) December 3, 2017
"We probably generated enough chances," Mittelstadt said. "If we would have buried a few of them earlier it's a completely different game."
Gophers goalie Eric Schierhorn looked steadier than he did on Friday night making 29 saves on 32 shots, and was a big reason Minnesota was able to kill all five situations they were short-handed.
The Gopher coaching staff again tried boosting their offense on a Saturday night by playing 11 forwards and seven defensemen, which allows Lucia to double shift some of his more talented players up front. However. the coach wasn't able to spread much extra ice around during the first two periods because of the five short handed situations.
"We played 10 of the first 40 short-handed because we took some penalties I wish we wouldn't of," Lucia said. "But we were able to kill them and then put the push on, we just got stuck on two."
A big reason Minnesota got stuck was the steady play of Berry who was making his fifth appearance of the season. All-American Kyle Hayton seemed to be a huge get for the Badgers in the off-season, but he's been below average since leaving St. Lawrence posting a 2.88 goals-against average and .892 save percentage in 16 games. Berry had a hiccup allowing four goals in one start against St. Lawrence, but will carry a 1.95 goals-against average and .919 save percentage from five games played back to Madison this week.
Granato said he couldn't have asked for anything more out his goaltender on Saturday and felt that a split series was the right result out of the border battle.
"Last night's game I think we could have walked out of here with a win, tonight they might have been able to walk out of here with a win–two great teams that battle like crazy," Granato said.
The split widened the spread in the Big Ten Conference race as Notre Dame has yet to lose a point in their new conference. Meanwhile, the Gophers fell behind Penn State to third as they look ahead to their final series at Ohio State before their exam break.
WATCH: Jack Sadek puts the #Gophers back on top with his first goal of the year! #PrideOnIce pic.twitter.com/7fPibFSJWm

— Minnesota Men's Hockey (@GopherHockey) December 3, 2017
Sadek feels the team has improved their play over the last three weekends despite going 3-3 during the stretch.
"We needed to win that third period, we just didn't. It wasn't lack of effort, we did pretty well at the end there, I don't know how that puck didn't go in," Sadek said. "The past three weeks we've been playing better and better, it just hasn't gone our way."