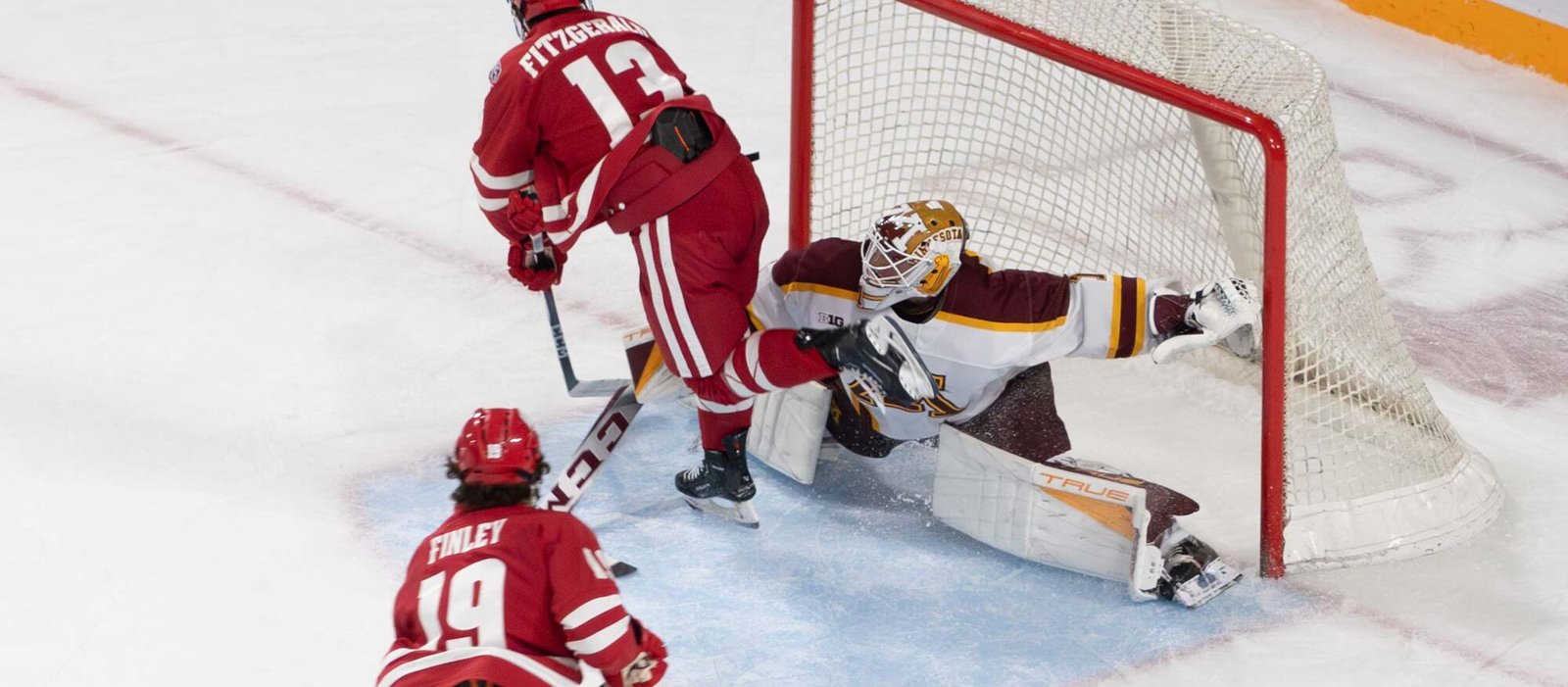 Minneapolis, Minn. — Gophers coach Bob Motzko put his team through a lengthy video session Friday after a frustrating 5-2 loss to the Badgers on Thursday. The coach felt his team lost too many battles and gave away too many pucks. While the message got through to his squad resulting in a better effort, No. 14 Wisconsin (7-1-0 Overall, 2-0-0 B1G) held on to win Friday's game 3-2 and headed back to Madison with a sweep over No. 1 Minnesota (3-3-0, 0-2-0).
The Gophers coaching staff put together 76 chronological clips to review with the team. It was a painful process reviewing poor play after poor play and in the end, watching all of the clips in their entirety was too much to get through. The film session ended with 12 minutes remaining in the third period.
"Film… you have to be cautious. Like there's some games you've heard me say, 'you just put right in the trash.'' And then [you've heard me say I've got either] my feather stick or my two by four," said Motzko. "Today it was the two by four. And you can only pull it out [so many times] and I haven't pulled it out in a long time."
"I wish I could tell you why. We just came off a weekend where we had compete and it was off last night. It was back tonight. We have to take a snapshot of the six games we've played and we have got to go forward."
Motzko placed a lot of blame on his forward lines for losing battles and being careless with the puck during the first game of the series and made significant changes to the line combinations. He moved Connor Kurth to left wing on a line with Oliver Moore centering and Jimmy Snuggerud on the right side. He moved Charlie Strobel up the line chart with Jaxon Nelson and Mason Nevers. He put Jimmy Clark between Rhett Pitlick and Brody Lamb. And he dropped down Aaron Huglen and Bryce Brodzinski to play with John Mittelstadt.
Huglen responded with a much stronger game Friday including scoring an important game tying goal 2:57 into the second period. The junior center drove a puck down the wall, curled back up and dangled his way through the Badgers slot leaving three Wisconsin players waving their sticks as he went past.
"He got rewarded," said Motzko on the Huglen goal. "I think sometimes these players need a reward to kind of get a little more fuel to get moving. I think we've had some guys worried about points versus wins and you have to worry about wins, the points will come. I know it's frustrating. They're young and they look at that stuff, but they'll be fine and they're gonna figure this thing out."
Clark was one of the bright spots for the Gophers both nights and drew praise from his coach. Clark consistently flashed applying pressure throughout the series, got his first career point with an assist Thursday and tallied his first goal 1:55 into the second which tied the game 2-2.
"It was only a matter of time. I mean he's just one of those guys, every day this kid's got something and he's gonna keep getting better," Motzko said. "It was great he got rewarded, assist last night, goal tonight… a lesson that if you play hard, good things are gonna happen. He's got that gene, 'I work hard every night,' and he's got the talent to go with it."
Motzko thought all the lines worked harder tonight and the coach on the other ice agreed.
"I'm gonna give them credit. I thought they pushed," said Wisconsin coach Mike Hastings. "They made us make some mistakes. I wish we would have managed the puck a little bit better, but again, I think they're pressure was what forced us into mismanagement."
Simon Tassy scored Wisconsin's opening goal at 6:12 of the first period, when his one-time snapper beat Justen Close to put the Badgers up 1-0. William Whitelaw scored at 12:48 to give UW another lead at 2-1 by collecting the rebound off of a fantastic post to post push by Close. Tassy tallied the last goal for the red team by getting to Quinn Finley's blocked shot in traffic 17:29 into the third period.
The win was obviously an emotional early moment for the team from Madison and Hastings downplayed the significance, 'Hey guys it's October. It's big and I'm happy, but… Michigan is coming to town and it's not going to get any easier.'
The loss was also clearly a tough moment for the team from Minneapolis and Carl Fish shared perspective on how the Gophers have to deal with it.
"I thought we came out and we played a lot better tonight. But it just kind of shows like even if you play hard, you're not gonna end up with a win. I think we've just got to focus on the small details and getting back after it this week in practice and look forward to next weekend," said Fish.
"We were a little down ourselves yesterday. We didn't play too well. There's a little bit of negativity. But that starts with us as a leadership group. There's nothing our coaches can do when we're like that. It's on us to have the right mindset and I thought we were a lot better tonight, we weren't down ourselves. "
The Gophers will look to get back into the win column next weekend, when Minnesota plays a home-and-home with Minnesota-Duluth. Friday's game is at 7PM in Minneapolis, while Saturday's finale is another 7PM game, this time at Amsoil Arena in Duluth.