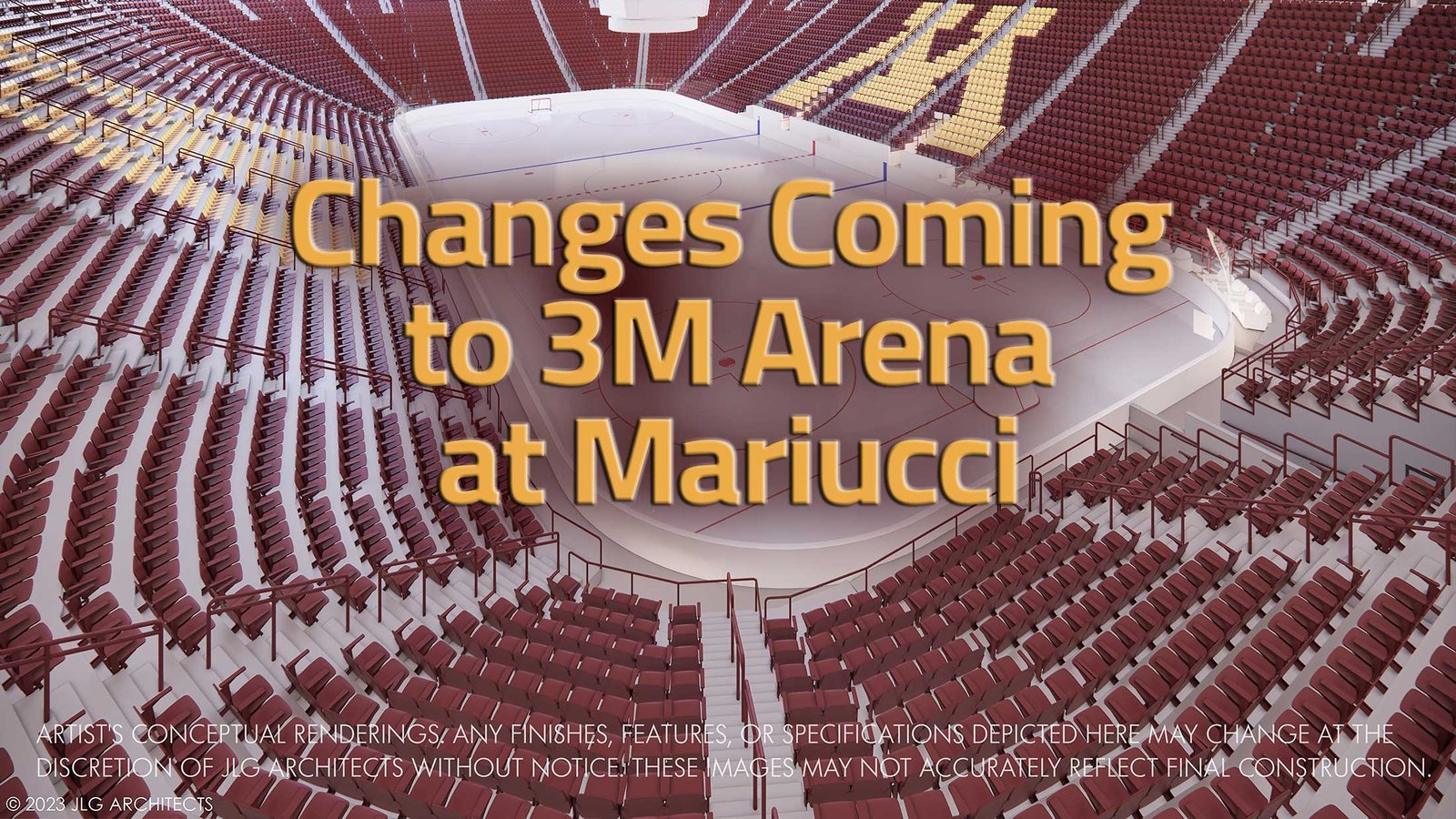 Minneapolis, Minn. — 3M Arena at Mariucci has looked like a sandbox for much of this offseason as a long anticipated project is finally underway reducing the size of the ice surface from an Olympic sized 200 x 100 to a more NHL sized 200 x 89 with tighter corners.
The project includes replacing the refrigeration system for both Mariucci and Ridder Arena from a discontinued R-22 refrigerant to an ammonia based one, updating the lighting to a modern energy efficient system and adjusting the seating and ramping to accommodate a playing surface 16 inches lower than the original. The updates were presented to the University of Minnesota Board of Regents as part of a FY 2023 budget package at their May 2002 meeting, $14 million of University funding was approved at their June 2022 meeting and the work at 3M Arena At Mariucci will be completed before the 2023-24 season begins.
"I was recruited with that plan happening soon," said Jack Ramsey during an overtime session on the GPL Podcast. "I don't know if it's still passed down, but the joke in the locker room was always Blake Wheeler was recruited with that plan too."
Ramsey graduated from Minnesota in 2019 and Wheeler is a 36-year-old NHL veteran with 1,118 NHL games played, but he also was a part of three seasons with the Pride on Ice from 2005 to 2008. So needless to say this project has been in the works for a while.
The positives and negatives of the big pond at Mariucci have been bandied about since it opened in 1993. The rink size was a popular choice of many 1980 Miracle on Ice inspired rink developments as advocates said it would best prepare amateurs for the Winter Games. Other rinks built during this time included college rinks like Colorado College, Alaska Anchorage, St. Cloud State, New Hampshire, Wisconsin, Minnesota State, and Northern Michigan. We also see the influence in a lot of high school rinks like the Super Rink in Blaine, Bloomington Ice Garden and TCO Rink in Maple Grove. The detractors became more vocal as it became clearer that the end of the runway for amateur players wasn't going to be the Olympics, but the NHL. Players can disappear into the deep corners of the rink away from opponents, the width issue has been cited as a holding back the Gophers in the NCAA tournament and NHL scouts have cited rink width as a hindrance to prospect development.
"It does create more offense to be on the smaller sheet, believe it or not. I always say soccer, they can play one to nothing all night long. The bigger the ice sheet, the farther the puck is from the net… It's going to be a good move, still a little hybrid, so we'll still have a little more ice out there, 200 square feet more," said Gophers men's hockey head coach Bob Motzko on the Pulltab Sports Can You Keep a Secret podcast. "It's gonna help our game. Our players want it. We're gonna have a lot of draft picks over the years. I think they're gonna want their players on it. So it's a real positive move."
Plans to reduce the width at Mariucci were first officially identified as a priority during a master plan study of all facilities for University of Minnesota Athletics in 2013 by Populous. The project outlined facility needs for development over the ensuing five to 15 years at Minnesota and originally included a narrowing of the ice sheet to 92.5 feet as part of a phased implementation of updates for the hockey programs.
It turned out that updates to the locker room, team areas, strength and conditioning areas and alumni areas that were identified were completed sooner as donor funded projects. Those updates re-leveled the playing field for recruiting at Minnesota as numerous other programs focused on updating team facing aspects of the student athlete experience first. The payoff for those updates have been top rated recruiting classes and back to back trips to the Frozen Four.
JLG Architects Tom Betti is now focused on making sure this next project gets done in time for puck drop in October. Betti has carved out his career with 35 years of experience in sports and community projects and has done over 50 ice arena focused ones across the country including the Anaheim Ducks training facility, Great Park Ice & FivePoint Arena in Irvine, CA; Phoenix Coyotes training facility, Ice Den Scottsdale in Scottsdale, AZ; Elk River Ice Arena & Community Center; Elk River, MN; Malosky Stadium renovations at University of Minnesota Duluth. JLG is a 200-person firm with 70+ people based in their Minneapolis office and have been doing work on numerous rinks to move from an Olympic to NHL size.
Preliminary work for the 3M Arena at Mariucci project started in 2019 to dial in on what JLG could do with the rink as sightlines, rough costs and preparing a project with tight timelines and tight pandemic supply chains were the major concerns.They formally got engaged last summer and after six months the engineering and documentation was ready to go. One of the big benefits during this update will be lower the utility costs because of a consolidated refrigeration mechanical system in a single room and a more energy efficient lighting system that will not put out extra unnecessary heat. The group also made some suggestions that could impact any next steps for the site.
"How we go to sporting events and attend them, it's changed a lot in 25 years. You see all the different seating opportunities… you've gotta keep the building up and operating… but we have some great seating ideas to increase revenue," said Betti. "We did some really loose schematics on how we can add some club seating, maybe upgrade some concession offerings, branding in the building, just bring out that Pride on Ice and Gopher History and just keep upping that game. It has a long way to go, but this is the benchmark right here [getting the ice sheet done.] You gotta get this going. I think starting to see some of these little changes, I think people will respond and will hopefully help push those projects up."
The first seating update fans will notice this season besides an extra row of seats is a group of lounge chairs in the southwest corner. As part of the 250 new seats, these comfy ones down by the glass are just a glimpse at what could be coming in phase two of the project. The timeline for any more upgrades is an unknown, but this phase of the project will wrap up next off-season when the concrete floor at Ridder Arena will also be redone to accommodate the new refrigeration system.
GPL Podcast with Tom Betti