[Closed]

#1 Gophers @ #16 Notre Dame Jan 13 & 14
Topic starter
January 9, 2023 8:25 am
Gophers are currently #1 in the pairwise and Notre Dame is tied for #16. Gophers swept Notre Dame at Mariucci in November 4-1 and 3-0. Notre Dame has split every series since the Gopher series, 6 series in a row. The Irish are currently 5th in the B1G with 15 points, while the Gophers are 1st with 30 points.
GPL Podcast on Weds night at 9:30pm with special guest Eric Schierhorn.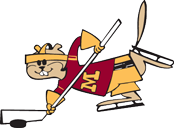 Compton Family Ice Arena
Radio:
1130 KTLK-AM/103.5 FM
I'm 50% factual and 50% sarcastic. When you get to know me, you will know which is which.